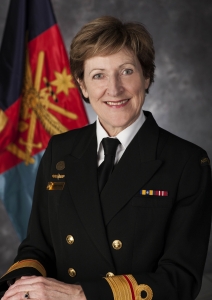 RADM Jenny Firman
RADM Jenny Firman completed her medical degree from University of Melbourne in 1981. While a student she joined the Royal Australian Navy and over the next 22 years was posted to a range of positions that included sea time and involvement in underwater medicine and, in the tri-Service environment, developing strategic and operational health policy.
She left full time Service in 2002 and transitioned to the Reserve and was appointed as the first Chief Medical Officer for the newly created Defence Force Recruiting organisation.
In 2008 she was appointed as Director General – Navy Health Reserve and performed that role until 2012. In February 2015 she was promoted to Rear Admiral and appointed as Surgeon General Australia Defence Force Reserve.
In her civilian working life she is the Principal Medical Adviser in the Office of Health Protection in the Department of Health. In this position she is responsible for the provision of medical and scientific advice to assist in the work of the Department and the Australian Government in communicable disease control and health emergencies. This has included the national response to pandemic H1N1 2009 influenza, the Japanese tsunami and radiation leak, Ebola, the current Zika outbreak, global problem of antimicrobial resistance as well as advice on the national immunisation program.