Flying into Melbourne
No official carrier has been nominated for the conference due to competitive airfares available via the internet. There are three airlines who fly regularly into Melbourne. Check out the best fares of the day from these airlines.
Melbourne Airport
Melbourne Airport is located approximately 25km north-west of Melbourne's CBD on the Tullamarine Freeway – less than 25 minutes by car. There are a few options to get to and from Melbourne Airport to the city. Please see below for more details:
SkyBus
SkyBus offers an express bus service from the airport to the city centre. This service operates 24/7, including all public holidays. Buses run every 10 minutes throughout the day.
Adult ticket – $18 one way or $36 return
Family ticket (2 adults and 1-4 children) – $41 one way or $82 return
Family ticket (1 adult and 1-4 children) – $25 one way or $50 return
Child ticket (4-14 years) – $9 one way or $18 for a round trip
Tickets can be purchased on arrival at the bus stop or purchased online at www.skybus.com.au.
On arrival at Southern Cross Station in the city, SkyBus provides a complimentary hotel transfer service. This is subject to availability, and available from 6.00am – 11.30pm Monday to Friday; 6.00am – 7.00pm Saturday and Sunday (excluding Christmas day). Buses depart every 10 minutes during the day – with additional buses departing more frequently during peak periods.
Taxis
Melbourne's taxis are a safe and convenient way to get from the airport to your destination. Taxi ranks are located on the ground floor outside Terminals 1 and 3. You can catch a taxi from designated taxi ranks, unless you have pre-booked one.
Taxi fares are calculated according to the distance and duration of the journey, and will vary based on the number of people and time of travel. Additional charges apply if you travel on some public holidays, late at night, with five or more people or pay with credit/debit card.
Additional charges may include:
Citilink and Eastlink tollway fees
20% late night surcharge if travelling between midnight and 5.00am
A service fee (usually 10%) for EFTPOS/credit/debit transactions, on top of the metered fare
$2.00 airport fee for taxis leaving from Melbourne Airport taxi ranks
You can calculate the estimate cost for a trip using the link below:
Getting around Melbourne
Myki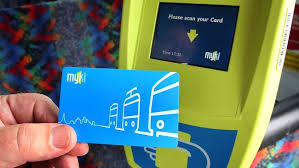 Everyone using public transport in Melbourne requires a myki card. The reusable smart card is easy to use. Simply top up before your journey and then touch on and touch off at a myki reader as you travel.
You can buy and top up your myki at close to 800 retailers including all 7-Eleven stores, the ticket office window at Premium Stations and staffed V/Line commuter stations, from a myki machine (full fare myki cards only) located at all train stations and major tram and bus interchanges.
Myki Visitor Pack
International and interstate visitors coming to Victoria can buy a myki visitor pack to travel on the public transport network in Melbourne and regional Victoria.
Download the myki visitor pack brochure HERE
The myki visitor pack includes:
a full fare, concession, child or seniors myki card, pre-loaded with enough value (myki money) for one day's travel in Zone 1, which includes the entire tram network
discount offers at 15 attractions including Melbourne Aquarium, the National Sports Museum, Eureka Skydeck and Puffing Billy, saving you more than $130
a protective myki wallet designed by renowned Melbourne cartoonist Mark Knight
a public transport map and information on how to use myki
When travelling on public transport you must always have a valid ticket and show it on request. If you do not have a valid ticket you may receive a fine.
Visitor Pack Costs
A full fare myki visitor pack costs $14 and includes $8 myki money for travel.
A concession, child or seniors myki visitor pack costs $7 and includes $4 myki money for travel.