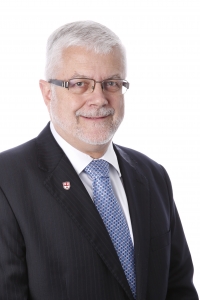 RUSS SCHEDLICH, MB BS, MPH, FRACMA
Captain Russ Schedlich RANR graduated MB BS from the University of New South Wales in 1979 and, following his internship at Gosford Hospital, started his naval medical career at the Naval Air Station, HMAS Albatross, in 1980.
Subsequent postings to sea, HMAS Cerberus, HMAS Leeuwin and HMAS Stirling, the latter two giving him extensive practice in underwater medicine, saw him head to the United Kingdom for exchange service with the Royal Navy at the Undersea Medicine Division of the Institute of Naval Medicine at Portsmouth.
Returning to Australia in 1988, Russ spent a short time at the School of Underwater Medicine at HMAS Penguin before being promoted Commander and being posted as Fleet Medical Officer at the beginning of 1989.
In 1991, Russ studied for a Master of Public Health at the University of Sydney, and then in 1992 was posted as Medical Officer-in-Charge, Balmoral Naval Hospital.
In 1993, Russ was put into project work to develop the concept of an advanced afloat surgical facility (a Primary Casualty Reception Facility). In 1994, Russ travelled to the United States to join the commissioning crew of HMAS Kanimbla, one of two former US Navy ships into which the PCRF was installed.
Russ was promoted to Captain in 1996 and posted (for the second time) as Fleet Medical Officer, also becoming Head Naval Health Branch. He left the Permanent Naval Forces from that post at the end of 1999.
Upon leaving the PNF, Russ spent a year on contract as Senior Medical Officer Fleet Base East before becoming Director Medical Services, Far West Area Health Service, at the end of 2000. He was seconded to the NSW Health Department in 2004 before heading north to Queensland as Executive Director Medical Services Central Queensland Health Service District in 2006.
In 2009, Russ was seconded to the Queensland State Health Emergency Coordination Centre to support the statewide response to the H1N1 influenza pandemic, and one year later joined Logan Hospital in southeast Queensland as Senior Medical Manager.
In 2012, Russ returned to NSW, taking up the position of Director Medical Services, Wagga Wagga Base Hospital, and then a year later to his current position of Director Medical Services, Liverpool Hospital.